What Is a Restraining Order? Everything You Need to Know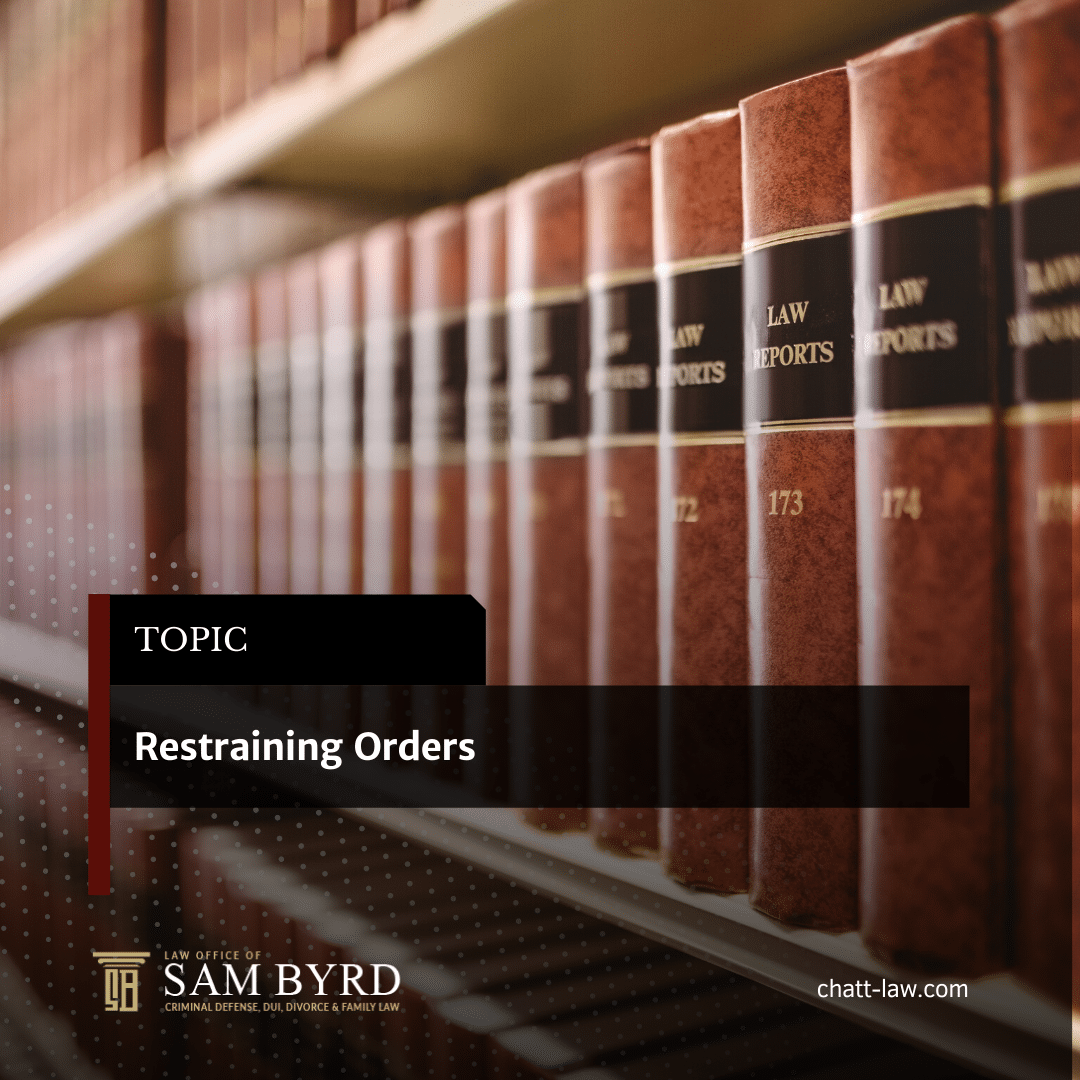 "Restraining order" is a phrase we often hear thrown around in movies and books. In these media adaptations, audiences are generally meant to take this as a "legal document that prevents someone from harming another someone."
In real life, however, this definition isn't quite right, and is more suited to its counterpart, "protective order."  
While restraining order and protective order might sound identical (and, indeed, are often used interchangeably between legal professionals), they are not the same. Restraining orders have a much broader scope, and can be used to address many types of civil behavior. On the other hand, protective orders deal exclusively with family and dating violence. 
In this article, we'll be focusing on restraining orders. 
Here's what you need to know about restraining orders in California, when they're used, how they differ from protective orders, and what the Byrd Law team can do to help you navigate these sensitive issues. 
What is a Restraining Order?
A restraining order (or "injunction") is a legal document that is used to either prohibit or require certain behavior out of specific individuals. These are often used in tandem with family law, divorce, and domestic violence, however they also have a wide application in other areas of civil litigation, such as business. 
While restraining orders and protective orders often cover similar territory, they are not the same thing—it's confusing, we know. And it doesn't help that even legal professionals use the terms interchangeably. 
The easiest way to distinguish between the two, is to remember that protective orders protect specifically against family and dating violence, while restraining orders have a much broader scope, and can be applied to many types of behavior and individuals.
Types of Restraining Orders
Restraining orders can be issued either temporarily, or permanently. 
In family law, it's quite common for the court to issue a temporary restraining order (TRO) at the onset of divorce. This acts as a kind of rule book for the couple, and outlines a list of prohibited and permissible behavior, while the case is pending. 
This prevents either spouse from making significant property or financial decisions that would impact the division of marital property. 
Who Can File for a Restraining Order?
Anyone can file for a restraining order.
Unlike protective orders, you neither have to be in a relationship with—or related to—your perpetrator, in order to file. (In some cases, it's even possible for a business entity to file a restraining order against another business or individual.)  
In family law, temporary restraining orders are often filed by one of the spouses in a divorce. This is typically done when you file for divorce—usually at the same time as the complaint.  
Why Would I Need a Restraining Order?
Tennessee courts will often issue restraining orders in cases where imminent danger or damage is likely. (For example, while a case is pending, when parties might want to alter evidence, property, or finances to bolster their own interests.) 
In these situations, restraining orders are used to regulate behavior, and can be used to maintain the status quo until a judge has the chance to settle matters. 
For example, if you are getting a divorce, then a restraining order might be used to:  
Prevent a parent from moving their children to another location;

Issue a

temporary custody

arrangement; 

Place a hold on accounts, until

marital property

can be divided; 

Prevent the sale of real or physical property;

Prohibit someone from damaging, devaluing, or destroying property; 

Require you to keep and produce financial records; 

Prohibit either spouse from changing, altering, or transferring insurance policies or beneficiaries; and, 

Require the continued payments of bills, health insurance premiums, and life insurance policies.
This list is not exhaustive, and there may be other reasons you'd want to get a restraining order. So long as your request is specific, is warranted, and receives judicial approval, then you can request a restraining order for any type of civil behavior.  
What About Family Violence?
While a restraining order could (technically) be used to prevent physical harm, if you are experiencing family or dating violence, then a protection order is likely more appropriate for your situation. 
Unlike protective orders—where victims of abuse and domestic violence can sometimes receive an order without a hearing—filing for a restraining order is not quick. Here, you will be required to give notice to your abuser, and to complete a hearing process, before your injunction will be granted. 
Hence, because restraining orders are so much more involved, protective orders are generally a much better solution for individuals experiencing domestic violence. 
If you're unsure which is right for you, then it's best to speak to an experienced family law attorney, who can help evaluate your options and point you in the right direction. 
How Do I File for a Restraining Order?
The process for getting a restraining order plays out much the way an actual trial might. This includes filing with the court, paying fees, and attending your hearing, where both sides will have the opportunity to speak, share evidence, and get cross-examined by the other person's attorney.
If you are interested in getting a restraining order in Tennessee, you will need to: 
Gather the necessary forms.

Fill out the forms with as much accuracy and detail as possible (in order to avoid delays).

Sign the forms in front of the clerk (not before).

Pay your filing fee.

Execute proper service on the person you intend to restrain.  

Attend your hearing. 

Obey your restraining order, according to the terms set down by your judge. 
Unlike a protection order—where domestic violence is the primary motivator for the order—civil restraining orders require a much higher burden of proof. This means if you want to take one out on someone, you have to have a very good reason for wanting it, as well as the evidence to back up your claims. 
You should also expect to pay a filing fee. 
This is different from protective orders, where victims of family and dating violence can always file for legal protection, without having to worry about cost. Restraining orders and injunctions, however, do require payment. 
This amount is determined by county, so yours will vary, depending on where you live. However, most will likely end up between $100-$300. (Which is, of course, in addition to the cost of your attorney.) 
How Long Do Restraining Orders Last?
Restraining orders can last as long as your judge thinks is appropriate, and will be decided at your hearing. 
In the family law arena, it's common for these injunctions to last until the divorce is finalized. At a minimum, this puts the duration at two months—three if you have children. Though, in reality, it would likely extend much longer than that, since this isn't a quick process, no matter which type of divorce you choose. 
Restraining Orders: Do You Really Need One?
If all this seems like a lot of unnecessary expense and effort, then it might be time to consider whether you actually need a restraining order—especially since Tennessee divorces already come with certain, automatic protections, which are granted as a matter of law. 
These statutory protections prohibit either party in a divorce from:
Taking any action to sell, convey, or dispose of property without an order of the court. 

Modifying or canceling insurance. 

Harassing or threatening the other, especially in front of children or employers. 

Destroying or hiding evidence. 

Relocating with

children

. 
Statutory injunctions protect both spouses from the other's misdeeds, and ensures no one can seek revenge during the divorce process. 
Hence, if you are not worried about some specific area of concern that is not covered by law, then you may not even need a restraining order. 
Restraining Order Attorney in Tennessee
If you have more questions about restraining orders in Tennessee—or are unsure whether or not you need one in your situation—we want to hear from you. Call the Byrd Law team at (423) 304-6827, or contact us online, and let us help identify what type of order is right for your unique situation.