What Is Fault-Based Divorce in Tennessee?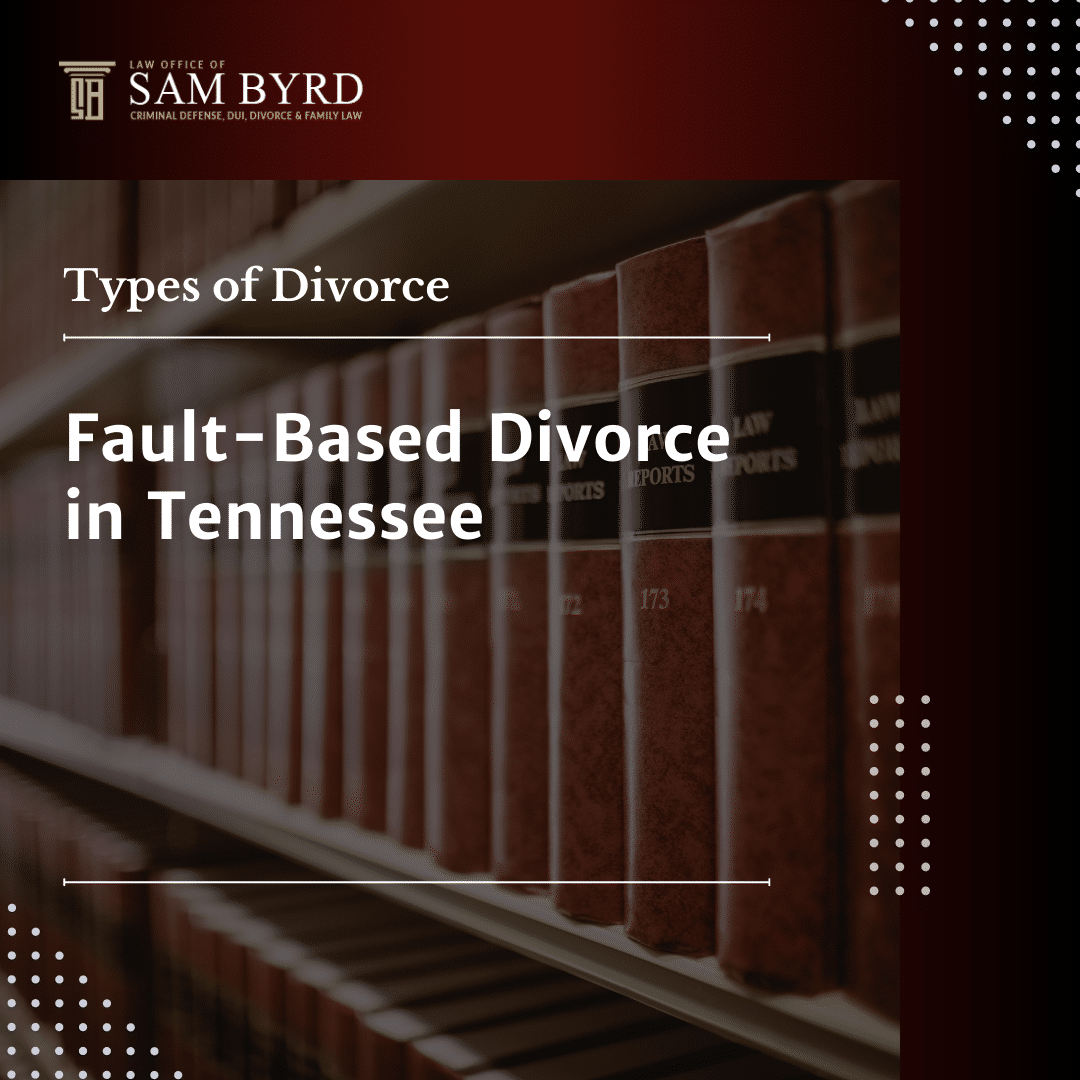 In a fault-based divorce, judges are allowed to consider the guilt of one party, and hold them financially responsible for the marriage breakup. In most jurisdictions, this accountability typically results in the uneven division of marital property. 
Here's what you need to know about filing for fault-based divorce in Tennessee, and what the Byrd Law team can do to help figure out if it's right for you. 
Fault and No-Fault Divorce
Divorce might mean a lot of things to a lot of people, but in the legal arena it all boils down to one simple thing: a contract. 
In this marriage contract, two individuals come together, and commit to live their lives as a single entity. Once executed, courts will regard spouses as a single household; one with shared property ownership, tax benefits, and custody over any children born into the relationship. 
This is why—short of a valid prenup—getting divorced is so complex. It isn't just about breaking off a romantic relationship. It's about severing your ties as a single entity. A legal process that requires you to break the contract you entered into when you said, "I do." 
Because of this, some states will allow individuals to file for a fault-based divorce.
But what is fault-based divorce? And how does it differ from its no-fault counterpart? 
We're glad you asked.  
No-Fault Divorce
The most common type of divorce is the no-fault variety. 
Here, neither party is held accountable for the breakup. Instead, each spouse goes their separate ways, without trying to hold the other accountable for the split. 
This means couples can execute their breakup without having to air a laundry list of wrongdoings in public court. These divorces are typically less expensive and less stressful, which is why many choose to pursue them, even when they have other options. 
All fifty states allow couples the option to get a no-fault divorce. Some, however, have included no-fault grounds, as well. 
Fault-Based Divorce
Unlike a no-fault divorce, an "at-fault," or "fault-based" divorce does make room for blame. 
In these divorces, judges are allowed to consider the "guilt" of one spouse, and to hold them financially accountable for their part in the marital breakdown. 
If upheld, most jurisdictions address fault by skewing the division of marital property in favor of an aggrieved spouse—meaning that wrongdoers living in a fault-based state could end up paying a steep price for their miscreant deeds. 
In Tennessee, however, fault cannot impact marital property or debt. Instead, wrongdoers in a fault divorce will feel these effects in the amount of alimony awarded, and how child custody is decided.  
Because they can be quite expensive, drawn out, and emotionally toxic, most jurisdictions have done away with fault. In fact, out of the fifty, Tennessee is one of only nine that still permits these types of divorces. 
In Tennessee, you initiate this process by citing fault-based grounds in your divorce complaint.
Grounds for Fault-Based Divorce in Tennessee
In "legal speak," the grounds of a lawsuit tell the court why you want to get divorced. 
When you file for divorce, you will need to list your grounds in your divorce complaint. If you don't, your complaint won't be valid, which could cause delays.
Out of Tennessee's fifteen grounds for divorce, a whopping thirteen of them are fault-based. While some might sound a little strange and archaic—and many overlap—here's a closer run-down of Tennessee's guilt-ridden divorce roster. 
1. Impotence and Procreation
This is one of those strange ones. Yet, as archaic as it might sound, impotence (and the inability to procreate) is, actually, grounds—not just for a divorce—but for a fault divorce.
According to case law, however, the inability to procreate is not enough. These grounds must include the permanent and incurable ability to engage in sexual intercourse at all. 
2. Bigamy
In Tennessee, you can only be married to one person. Any attempt to marry a second person (while married), will result in that second marriage being voided. Not only that, it could also put you at the wrong end of a fault-based divorce claim. 
3. Adultery 
Adultery (or "infidelity") is one of the most commonly cited grounds for a fault-based divorce.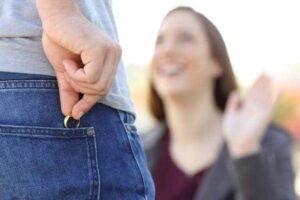 These claims can be supported through direct evidence (such as an eyewitness report, picture, or videos), or through circumstantial evidence. Though, naturally, direct evidence will always be stronger than an opportunity-based hunch.
There's a catch, though: if the court finds that you agreed to the affair, then all bets are off.
4. Desertion
This occurs when one spouse willfully and maliciously abandons their spouse for more than two years. During this time, there cannot have been communication of any kind.  
5. "Infamous" Conviction
Two types of conviction can trigger a fault-divorce in Tennessee. The first is an "infamous" crime, and—in case you were wondering—no, "infamous" has nothing to do with how much notoriety you receive. 
In Tennessee, infamous crimes are ones that will deprive you of certain rights, (such as citizenship, voting, holding public office, and gun ownership, to name a few). 
Examples of these crimes include rape, incest, larceny, forgery, and yes, even horse theft. 
6. Felony Conviction
While many infamous crimes would be considered felonies, not all felonies are infamous. 
A felony conviction is a criminal charge that will result in at least one year in state prison. In order to qualify for fault-based divorce grounds, your spouse must not only have been charged for a felony, but also convicted, and had their sentence initiated. 
7. Inappropriate Marital Conduct
Also known as, "cruel and inhumane treatment," this category of fault covers a wide range of both physical and emotional abuse. Among other things, it includes all forms of domestic violence, assault, and even a failure to provide suitable living conditions.
8. Attempted Murder 
We're guessing this one is pretty self-explanatory… To qualify under this category, the attempt must be deliberate and malicious. 
If both of those boxes are checked, chances are you'll have a pretty strong back up argument for felony conviction, as well. 
9. Substance Abuse  
Tennessee's substance abuse category not only encompasses habitual drunkenness (a.k.a. alcoholism), but also the improper use of narcotic drugs. However, in order to qualify as grounds for fault, you can't have known about this abuse prior to getting married. 
10. Undisclosed Pregnancy
A wife might be accused of fault, if—without her husband's knowledge—she was pregnant with another man's child at the time they got married. 
11. Refusing to Move
Surprise! Refusing to move out of state with your spouse can also put you in danger of a fault-based divorce. (Yeah, we're raising our eyebrows at this one, too.) Though, you're probably good if you have "reasonable cause" for your refusal. If not, you have two years to get your crap together before you're in real trouble.   
12. Intolerable Behavior
Intolerable behavior refers to a situation where one spouse has been consistently rude, hateful, abusive or neglectful towards the other, essentially rendering their life "intolerable." 
13. Long-term Separation
And finally, you may qualify for a divorce under separation, if: 1) you and your spouse have been separated for more than two years; 2) you didn't cohabitate during that time; and 3) you do not have any children.  
While it's technically listed under fault-based grounds, we should note that this category is generally seen as another method of acquiring a "no fault" divorce. 
Fault-Based Divorce: Just Because You Can, Doesn't Mean You Should
Like with many things in life just because you can get an at fault divorce, doesn't mean you should. 
Divorce can be expensive, no matter what type you choose. However, the mud-slinging involved with at fault divorces is kind of like pouring gasoline over an open flame. Not only do these claims ignite the toxic hate fires of rage and emotional toxicity, they also take a lot longer to litigate. As a result, they're usually quite a bit more expensive. 
Hence, even when there has been fault, it's often better to let bygones be bygones, and file for no-fault, instead. While we can't guarantee everything will be easy, we can, at least, assure you that it'll be simpler than pointing fingers.  
Fault-Based Divorce Attorney in Tennessee
If you have more questions about fault-based divorce in Tennessee, we want to hear from you. Call the Byrd Law team at (423) 304-6827, or contact us online, and let us help you figure out if this type of divorce is right for you.