Someone Filed a Protection Order Against Me… Now What?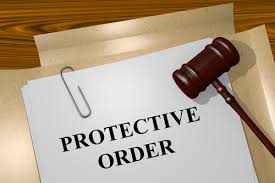 In Tennessee, a protective order is a legal document issued against alleged abusers, in order to shield victims of domestic violence from future harm. 
Most of the time, these orders are a necessary tool that both law enforcement and courts use to prevent future harm from coming to an abuse victim. Unfortunately, however, it's also not unheard of for someone to try and use this order to gain the upper hand, legally (like in a custody battle).
If you've been issued a protection order, the first thing to understand is that you have rights, too. Regardless of the circumstances, you have the right to tell your side of the story, and to present your case before a judge. Which is why it's so important not to ignore these orders, if you've been served.
To help you out, here's what you need to know about protective orders in Tennessee, and what the Byrd Law team can do to help you navigate the legal nuances of this critical situation.
What is a Protection Order?
Before we get started, let's first discuss what a protective order actually is, and what it means in Tennessee.  
A protective order is a legal document that's signed by a judge, and can be used to either prevent or require certain behavior from a specific individual. (Usually, to protect a person against the possibility of another person trying to hurt them). This document identifies the victim, the abuser, and the specific type of harm, and attaches serious legal consequences for any violations.
In Tennessee, protective orders are used in one of three situations: 
Sexual Assault

Stalking 
While it's not actually body armor (and thus, can't physically shield someone from violence), what a protective order can do is enable law enforcement to take swift, harsh action in the immediate aftermath of an offense, thereby lessening the threat to a potential victim.
Not the Same Thing as a Temporary Order
While similar in function and name, a protective order is not the same thing as a restraining order (or, more formally, a "statutory temporary restraining order").
Unlike a protective order—used almost exclusively for domestic violence—temporary restraining orders have a much broader scope. In fact, these orders are often issued during divorce, to keep spouses from retaliating against each other, and maintain the status quo until a case can be settled. 
For example, they might be used to protect assets, limit bank account withdrawals, prohibit the sale of property, address debt responsibility, require temporary alimony, or even to enforce a temporary child custody arrangement. 
Temporary restraining orders are usually issued at the onset of a divorce, and typically only last until a permanent arrangement is in place (i.e.: until the end of a case). 
Tennessee Protective Orders
In Tennessee, there are two main types of protective order: 
Temporary Protection Orders (TPO); and,

Extended Protection Orders (EPO).
Here's a closer look at how each works, and what to do if someone has filed one against you. 
1. Temporary Protective Order (TPO)
A temporary protection order (also known as an "ex parte" order), is a short-term order, designed to protect someone against an immediate threat of harm—or against a suspicion of likely harm.
Because it is temporary in nature (and will not go on your permanent record), this type of order can be issued without an accused being either present—or even notified that a hearing is taking place—in order to be enforceable. (Although, law enforcement will certainly notify you, if one is actually issued.)
For the person being accused, that might sound a little unfair. However, it might help to think of a TPO like one of those protective neck casts used by emergency personnel. The kind EMTs will often slap on your neck after a car accident—whether you need one or not. 
Like a protective neck cast, a temporary protective order keeps things safe and stable until a doctor—or, in our case, a judge—has time to sit down and review the evidence properly. If you get to the hospital (aka: your hearing) and the doctor/judge finds there's nothing wrong, then, just like your cast, the restrictions will be promptly removed.
In that sense, a TPO is a "better safe than sorry" measure; one that errs on the side of caution, and offers a potential victim protection, whether it's completely warranted or not. 
Which isn't to say you shouldn't take it seriously, though. Because you really should. 
While a temporary protective order might only last for up to fifteen days, it can easily turn into a permanent, extended protective order, if you aren't properly prepared to defend yourself at your hearing. 
Which brings us to our next type of protective order… 
 2. Extended Protective Order
Unlike a TPO, an extended protective order (EPO) can only be issued after a full court hearing—a hearing that, by law, an accused has the right to be present at. In addition, notification for this hearing must be done via proper service, otherwise it cannot take place. 
At the hearing, both sides will have the opportunity to present evidence, and to tell their side of the story in front of the judge. After thoroughly reviewing and cross examining the evidence, said judge will make a ruling on whether or not an extended protective order is necessary. 
An extended protective order will last at least a year, but can be extended longer, if the need persists. 
If upheld, an EPO can have a significant impact on many areas of your life, including child custody, and the division of marital property, not to mention criminal charges, in some situations. 
As such, it's critical that you don't ignore a temporary order, and that you come to your EPO hearing fully prepared to defend yourself.
Someone Filed a Protection Order Against Me… Now What?
If someone has filed a temporary protective order against you, the first thing you should do is obey it. That's right: Every. Word. 
Whether or not you think you're innocent, you will gain nothing by ignoring a TPO (quite the opposite, in fact). Remember, compliance is not an indication of guilt, and you will have the opportunity to set the record straight at your EPO hearing. 
Until then, it's vital that you follow the parameters of your TPO exactly as outlined—even if your accuser offers to meet up to reconcile (since, of course, a victim has no authority to revoke their own protective order).
The next thing you should do is hire a skilled attorney. Tennessee courts take allegations of domestic violence very seriously, and you'll need an experienced attorney during your EPO hearing, if you want a chance at clearing your name.  
Do You Need Help Responding to a Protective Order in Tennessee?
Protective orders have significant consequences, which can alter the course of custody battle, divorce trial, and even a person's criminal permanent record. However, with the right attorney, you can rest a little easier, knowing your rights are being protected. 
If someone has filed a protection order against you—and you have questions about what to do next—we want to hear from you. Call the Byrd Law team today, at (423) 304-6827, or contact us online, and let us help fight for your rights in these important matters.