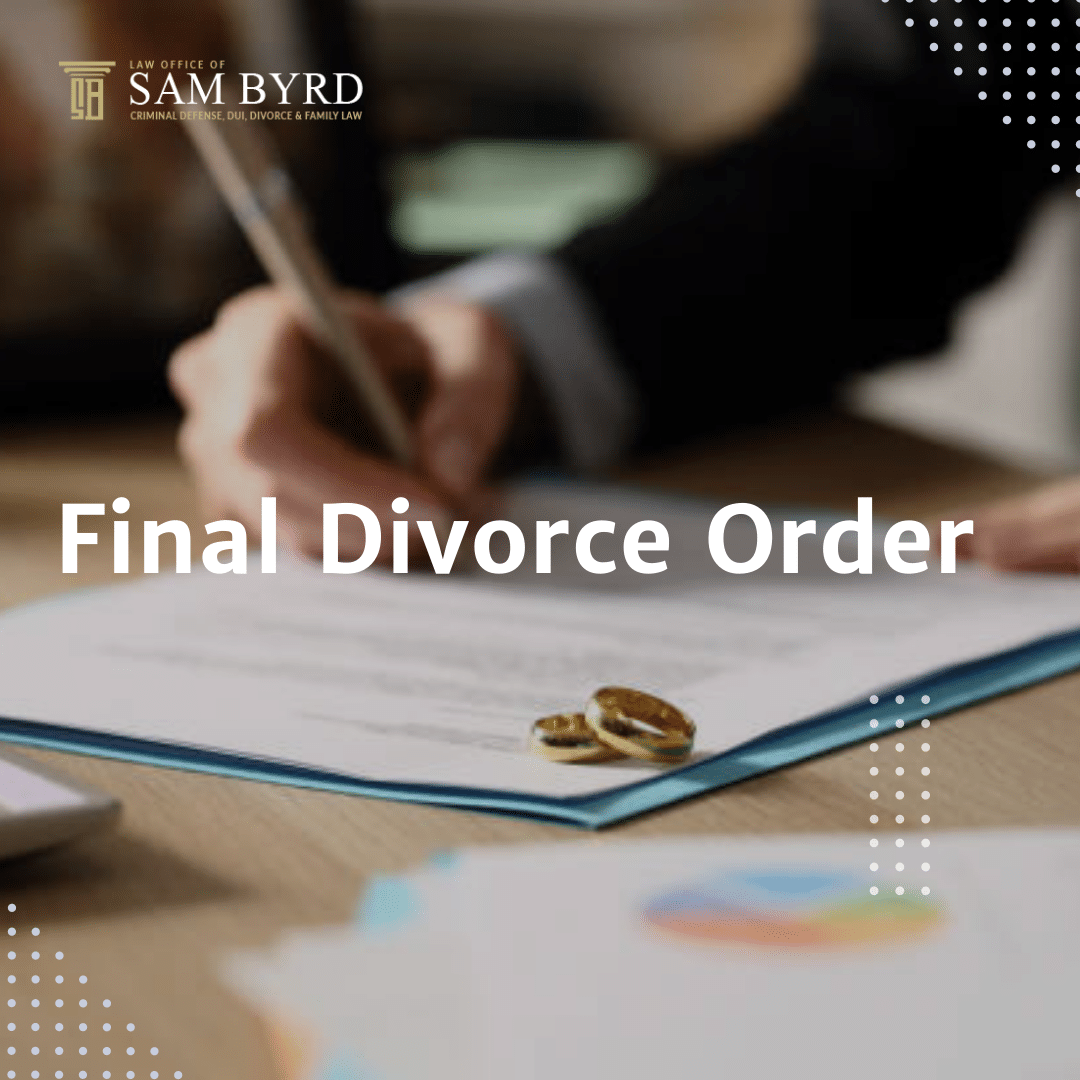 Let's be honest: splitting one life into two isn't easy. When you get divorced, there will be a lot of important decisions being made, and—between property, debt, children, alimony, retirement accounts (not to mention, family pets)—a lot to keep track of, too.
Luckily, there's one document you can turn to that will have all the answers… and we mean, of course, your final divorce order. 
A final divorce order is a legally binding document, which contains all the decisions made during your divorce, including the obligations you'll have to meet in your post-divorce life. Once finalized, these terms will be enforceable, and failure to comply isn't something Tennessee courts take lightly.
Here's what you need to know about final divorce orders in Tennessee, and how Byrd Law can represent your interests while negotiating these terms. 
What is a Final Divorce Order?
A final divorce order (also known as a "final divorce decree" in Tennessee), is the court order you receive at the end of your divorce. This document contains a summary of your divorce negotiations, and outlines the terms, obligations, and responsibilities that will govern your post-divorce life.
Since every divorce is different, this means that no two final orders will look exactly the same. However, some of the items commonly addressed in a final divorce decree include:
Separate property

Marital

debt

Visitation and parenting time 

Child support obligations

Alimony 
Assuming that you've been paying attention during your divorce negotiations (and, we're going to assume you have), then most of these terms shouldn't surprise you. (If they do, then you should probably notify your family law attorney, immediately). 
But how do you get this final order? Where does it come from? And will the type of divorce affect its final contents?
We're glad you asked. 
How to Get a Final Divorce Order?
The obvious answer to this question is, of course: you get a divorce. However, as you might have guessed, things aren't quite that simple (otherwise we wouldn't be here, right? Right.).
While each type of divorce eventually produces a final divorce order, the process of getting there will differ, depending on whether you choose uncontested divorce, mediation, or contested litigation.
Uncontested Divorce
An uncontested (or "agreed") divorce is one where both spouses agree on all the terms of their split, including the division of marital property, and whether or not there will be any alimony. 
With nothing to actually "fight" about, these couples can compile their terms into what's known as a "settlement agreement." This document must be signed by both parties, and include detailed financial information. A judge will then review this paperwork, and—so long as the arrangement is fair to both sides—will incorporate the term into a final divorce order at the couple's hearing. 
Agreed divorces aren't for everyone, and generally work best for shorter marriages, and those with little property. According to Tennessee law, you cannot get an agreed divorce, if you and your spouse share minor children. 
Divorce Mediation
Even if you don't agree on everything, you can still save a lot of time and cost of divorce, by choosing divorce mediation (instead of an uncontested divorce). 
Divorce mediation is a series of out of court negotiations, which take place under the supervision of a neutral, third party "mediator." This individual acts as a kind of referee, and helps guide couples toward a settlement agreement.
If successful, the terms of these negotiations will be compiled into a "mediation agreement," and submitted to the court for review—just like in an uncontested divorce. This document must be signed by both parties, and should be overseen (and approved) by your trusted family law attorney, for best results. 
At your hearing, a judge will review your agreement, and—so long as it meets certain requirements (such as state child support minimums)—will incorporate it into a final divorce order. 
Divorce Litigation
If alternative dispute resolution doesn't work for you, then the only way to get a divorce will be through a traditional divorce trial. 
We don't love this option, because it is—by far—the most expensive and time consuming of all divorce types (especially if you file for an "at fault" divorce). In addition, this process offers couples the least amount of control over the final terms, and is usually quite emotionally toxic for everyone involved. 
During a traditional trial, you will gather evidence and present it to the court, to try and sway the judge to see things your way. Each and every issue must be settled using this laborious process, meaning that it can be quite the task. 
Once this is done, your judge will decide on each issue, and formalize these results into a final divorce decree. 
Enforcing a Final Divorce Order
At the end of the day, there's a good chance you might not like the terms of your final divorce order (especially for those who had to endure divorce litigation); however, the contents of a final divorce order are non-negotiable. These terms are fully enforceable under Tennessee law, and carry some fairly hefty financial and/or legal consequences, if you fail to follow them. 
Depending on the offense, some of these punishments might include:
Wage garnishment

Fines

License suspension

Property Liens

Arrest

Jail time

Contempt of court
If your ex isn't complying with something, then the first thing you should do is try and solve it between yourselves. Often, it's just a misunderstanding, and can easily be resolved without judicial interference. 
If this doesn't work, you may need to make some modifications, or else take a more extreme measure, such as file for contempt.  
Do You Need Help with a Final Divorce Order in Tennessee?
The terms of your final divorce order will have a huge impact on your post-divorce life, and will govern things like finances, property, and children for much of your foreseeable future. Because of this, it's important to make sure this document is drafted correctly, the first time around.  
If you have more questions about final divorce orders in Tennessee—or how divorce types can influence this document—we want to hear from you. Call the Byrd Law team at (423) 304-6827, or contact us online, and let us help you get the divorce results you deserve.